DP-7100/3D Banknote Counter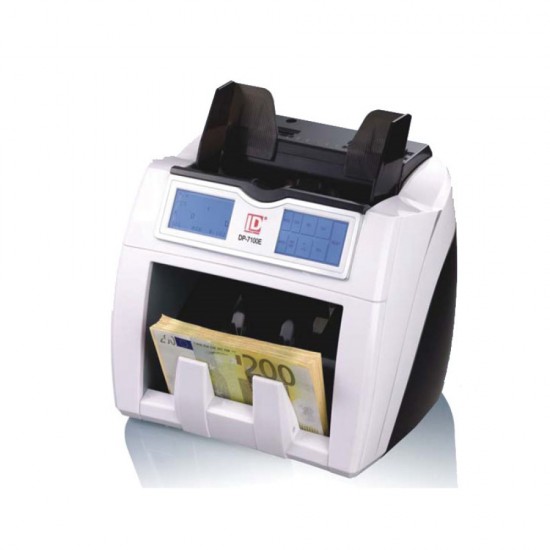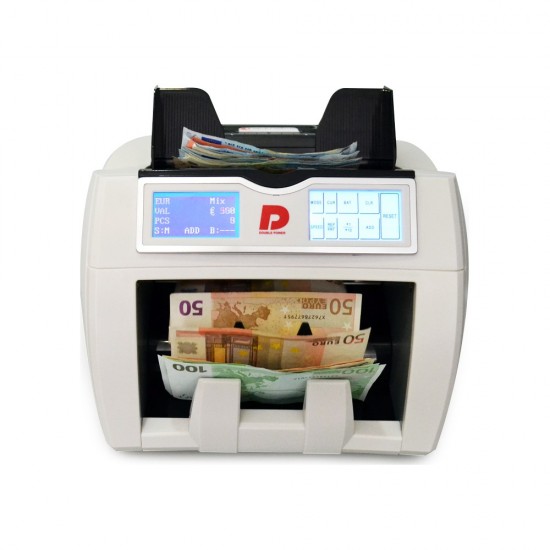 DP-7100/3D Banknote Counter
Banknote Counter DP 7100/ 3D
Authentication detector & counter for banknotes of € & $ / £. Full touch screen technology keyboard that offers flexibility and speed in the selection of counts. Microcomputer, which controls all the functions of the machine. Detects half and double banknotes. Detects banknotes of different size by checking all three banknote dimensions (thickness, height, width).Paper quality control via ultraviolet UV lamp. Authenticity check with MG detector. Metal strip authentication with MT detector, new technology that controls the conductivity of the metal film. Infrared IR ink detector test. Color Image Sensor. Approved by the ECB to detect counterfeit notes. Three counting speeds of 800/1200/1500 banknotes / minutes, selected from the operator so that visual inspection can also be performed. Detects authenticity & counts Euro . Plain count of Dollars and Pounds of England (quantity and not value). Direct preset counting from the full and ergonomic keypad. Large illuminated LCD screen with full messages. Possibility of mixed counting of bank notes with the appearance of the total value and analysis of the banknotes that have been counted (value only euro). Automatic or manual start of counting by the operator. Add counts, displays the sum of more countings. Hopper for 300 banknotes. Easy release of stuck banknotes. Capacity of 250 banknotes. Soundless operation. Damage detection system. Connecting with 2nd customer monitor, USB port for communication, upgrade from PC. Bank note sizes:110x50 to 185x90mm Operating voltage: 99-245 V. Consumption: 40 W. Weight: 6.7 kg. Dimensions: 235x290x195 mm.
Specifications
Banknote Counters-Detectors
Detection technology
Bill size sensitivity. UV (ultraviolet) sensitivity. Ink and magnetic band sensitivity. IR sensitivity (Infrareds). Paper transparency sensitivity.
Banknotes
Euros, Dollars, and British Pounds.
Hopper capacity
Stacker capacity: 250 bills. Hopper capacity: 300 bills.
Speed counter
800/1200/1500 bills/min (may be selected by user).
Power
AC 85-264V 50/60Hz.
Power Consumption
40W.
Interface/ Upgrade
RS–232 Cable (optional). USB Cable (optional). External LCD screen (optional).
Dimensions banknote counter detector
235 mm (length) × 290mm (width) × 195 mm (height).
Weight
6,7 Kg.
Additional features of detector-counter
Temperature: 0ºC – 40ºC. Humidity: 40% – 90% Bill size range: 50mm – 90mm (width) × 110mm – 175mm (length).